Kids! Nature! Story!
What's not to love?
We wrote and performed our first walking story in 2006, just as cell phones appeared on the planet and began to draw kids from the wonders of nature to the screen.
Why? All the STORIES are there, on those screens.
We applied stories to re-capture that outdoor connection kids used to have.
Kids thrive on Nature time.
We make it really fun – with stories that ignite imaginations and create a nature bond that will literally assure the human race takes care of the planet.
A Nature's Theater WALKING STORY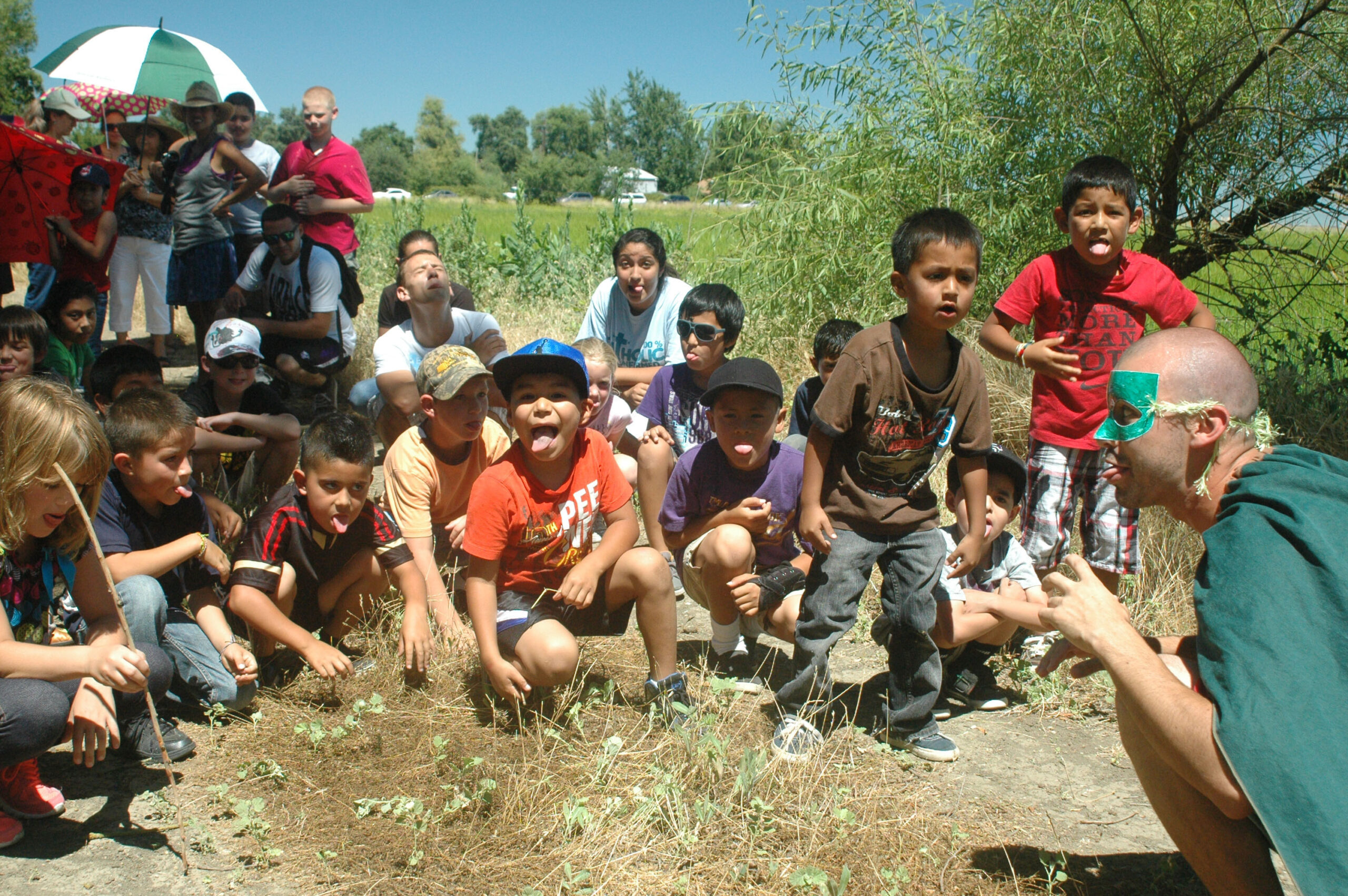 This photo from Animal Circle Club shows kids imagining what it would be like to be one of the animals in the story.
When kids identify with something and create a connection – THEY CARE ABOUT IT!
You can see why it's good for everyone when kids care about Nature.  If all they care about are the latest "Fail Videos" – they likely will not contribute to the planet and their community in the same way as they would if they are invested in Nature and the diversity of life on earth.  What are some of the benefits?
Outdoor play
Imagination
Collaboration
Curiosity
Fun!
Learning about various aspects of NATURE
Diversity
TEENS run Nature's Theater stories for younger kids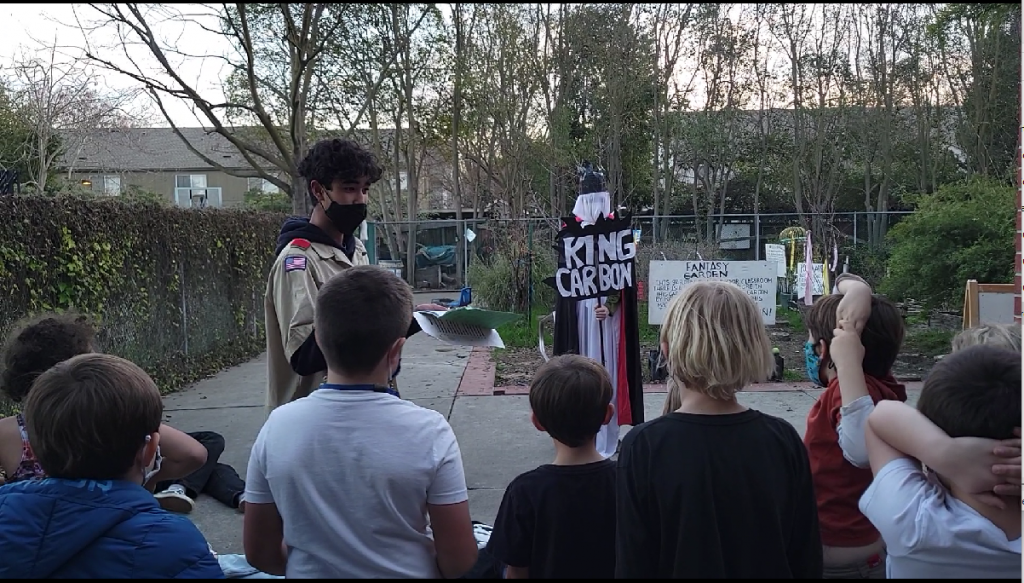 Search for King Carbon - climate change
This photo from our CLIMATE CHANGE STORY: The Search For King Carbon offers a glimpse of the teen-led experience.
In collaboration with the CITY OF DAVIS ARTS in 2022, a cast of 13 teens learned the parts and performed the outdoor walking play in aftercare facilities throughout Davis.  They also performed at a soft opening for Woodland Regional Park Preserve.
Elementary aged kids REALLY pay attention when teenagers lead them on the quest.  It's a phenomenal combination: the mentorship role for teens and interactive learning for the youngsters.
Memorable experience
Awareness of Climate Change and how kids can help
Dual learning for both youth age groups
Humor and outdoor fun
Socratic teaching
Long term thinking begins about personal responsibility towards the planet
A FEELING OF JOY for all the youth.  The teens are exhilarated at their effect on the younger kids.  The youngsters are invigorated with new ideas and a feeling of accomplishment.
FOUNDERS
Lyndsay Dawkins & Jeff Falyn

Everyone has a story.  Engage and get connected!
Outdoor Walking Stories
Costumed characters introduce themes like water conservation, climate change or being a Nature Hero to kids
Thus begins a quest style walk in the outdoors, with high energy, surprises and FUN!!!
-A Children's Book
- A Walking story
- A Stage show
- You choose!
We thank you for helping youth forge a Nature Bond!